Hairmax is a pioneer of home-use laser devices for hair regrowth. Featured in numerous TV shows (including Dr. Oz, NBC today and The Doctors), their laser combs are specifically designed to treat hair loss by promoting new hair growth and reducing hair shedding. There are number of other companies (Bosley, Power Grow, etc) offering similar laser-based solutions such as laser hair growth helmet, laser hair brush, and lasercombs from different brands.
In this Hairmax lasercomb review, we will focus on 3 lasercombs the company offers (Professional 12, Luxe 9, and Advanced 7) and how effective the devices are for preventing hair thinning or hair loss issues.
Brief introduction about HairMax:
First, let's briefly highlight some facts about the company:
HairMax laser comb is FDA-Cleared laser device
It is designed for both men and women
It is currently sold in over 170 countries
The Hairmax comb is created to treat Androgenetic Alopecia, the most common male and female hair loss pattern
Claimed benefits of HairMax laser comb for hair loss:
Before going into the Hairmax review, let's talk about available methods for hair loss treatment. Generally, they can be divided into 5 different groups.
Available hair loss treatments (Mild to aggressive scale):
FDA-approved solution: Minoxidil (for both men and women), Finerstraid (for men)
Laser hair therapy treatment (At-home: Laser cap, Laser comb and brush | Office laser therapy)
Hair transplant (detailed article about procedure here)
Laser-based hair growth treatments
Laser hair growth treatment is a much less invasive solution compared to surgical procedures such as hair transplants. Another great thing about laser hair loss treatments is that no pain or major side effects have been reported. The official website states that the Hairmax laser comb offers the following benefits to people suffering from hair loss:
Substantial decrease in hair shedding
Increasing thickness of existing or newly growing hair strands
Reawakening dormant follicles, thus stimulating new hair growth
Difference between home vs. office laser hair growth therapy
The biggest difference is the cost. The in-office laser therapy sessions easily cost around $2000 to $3000 each year. The laser machines doctors use in the office (ex: Revage 670 by Apira) provide much stronger lasers compared to ones that are designed for home-use.
However, there is good news: because of technological development and increasing competition, companies are coming up with hair laser combs that are cheaper and offer various settings and functions to make it more customizable for personal use.
Hairmax laser comb reviews & photos
Let's start with photos. Here are some of the photos featuring before and after Lasercomb results from the Hairmax website: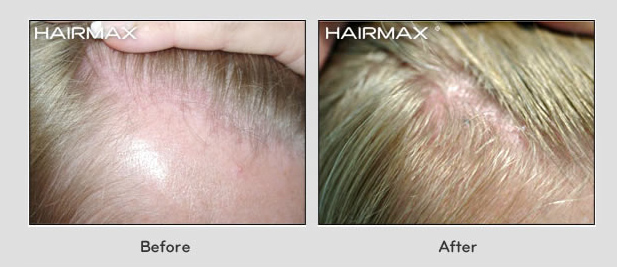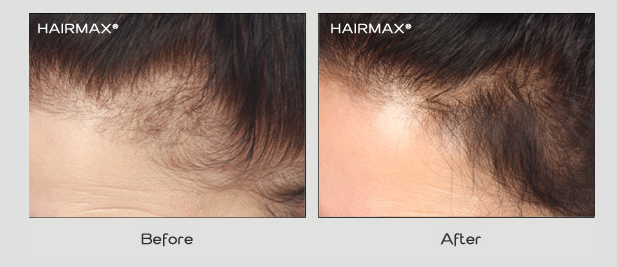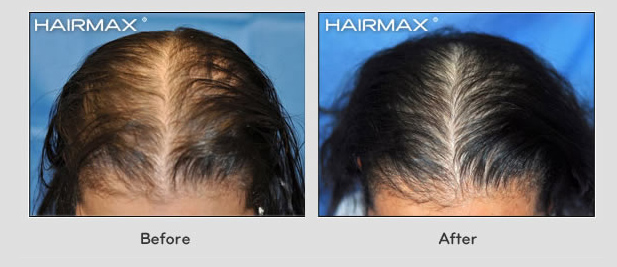 The official Hairmax website provides a large number of before and after photos and videos from actual users (see here). When you individually check each photo and you will see there are some before and after pictures showing dramatic improvement (hair re-growth on previously thinning spots). However, to be fair, there are also other photos that don't show much improvements.
Based on the customer surveys from actual users, the hair max laser comb has a 93% success rate and is clinically proven to promote hair growth, grow thicker hair and stop hair shedding.
HairMax offers 3 different laser combs – Which one is right for you?
Do laser combs work?
All of the hair growth laser therapy devices, including HairMax Lasercombs, are designed to stimulate hair follicle growth. By targeting a low-level laser light to the balding areas on the scalp, it provides hair follicles energy they need to properly grow and to extend the active growth phase.
Hairmax currently offers 3 hair re-regrowth laser combs:
Comparison table:
Prima 7 LaserComb
Ultima 9 Lasercomb
Ultima 12 Lasercomb
Laser Modules
(No. of Medical Grade Lasers)
7
9
12
Treatment Per Week
3
3
3
Minutes Per Use
15
11
8
Price
$199
$299
$399
Read More
Read More
As you see in the above comparison chart, the biggest difference among those 3 models is the number of individual "modules". Modules, also known as diodes, are where the laser light comes out of the device. The Advanced 7 includes 7 laser diodes while the Professional 12 has, you guessed it, 12 diodes attached to the comb. The more laser diodes, better (and more) it covers the scalp.
This also explains why using the Hairmax lasercomb Professional 12 only requires 8 minutes while the Advanced 7 requires 15 minutes of use on your head. But keep in mind that whatever model you decide to purchase, hair growth results will likely be the same. It's just a different length of time for the treatment.
If you are evaluating laser comb reviews from different brands, Hairmax seems to be a safe choice based on what we have observed:
Only FDA approved "medical" laser comb for home use
Reputable brand that has been around for many years
Offers 3 hair laser combs to choose from based on your budget
Any HairMax Coupon Code?
As of right now, the company doesn't offer any specific coupon codes. But the good news is each lasercomb comes as a bundle which includes the lasercomb itself as well as a number of other products from HairMax including a shampoo, conditioner, scalp exfoliator and dietary supplements. These bundle deals are available at both Amazon and the official website.
Also note that all of the laser devices come with a 5-month money back guarantee as well as 2 year laser device warranty programs.