BENEFITS
17 Natural organic DHT blocking ingredients in the formula to tackle hair loss from the root
Amazon reviews: 550 +
We noticed Big 3 Shampoo by Lipogaine is gaining popularity in a hair loss product category. What to note about Lipogaine's shampoo is a bunch of DHT blocking natural ingredients contained in the formula; we believe the brand offers great quality and value for the money.
If you are looking for Minoxidil products, click here to read our detailed reviews for their Minoxidil product (It's definitely a better upgrade from Rogaine).
In this Lipogaine review, we will talk about Lipogaine Big 3 Shampoo and how it can help people with hair loss. This shampoo is specifically designed to fix the issue of thinning hair and further hair loss by preventing the formation of DHT in the scalp.
Highlights: Ingredients and more ingredients!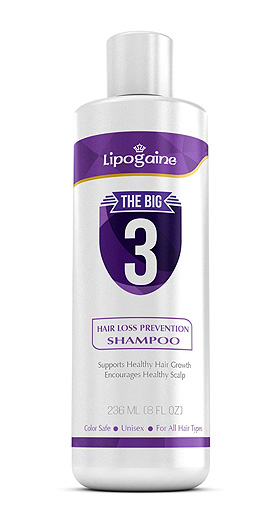 The new version of Lipogaine shampoo removed some ingredients from the original formula (Ketoconazole, red clover extract, etc.) and added a lot more organic ingredients for stimulating hair growth. Here are some highlights:
Emu oil:
Emu oil is known to stimulate frontal hair growth. Based on the research done by Dr. Michael Hollik, he found out that topical application of emu oil helps with reawakening dormant hair follicles (Click here to read more details about the research and find out how to use it on your own hair).
Saw palmetto:
A Natural herb known for inhibiting DHT formation around the follicles
Biotin:
This is a newer trend for companies to include biotin in shampoos. Biotin is an essential vitamin for keeping healthy hair follicles.
Caffeine:
The study conducted by British Journal of Dermatology in 2014 discovered that caffeine stimulates cell proliferation which leads to the extended Anagen (active hair growth) phase for your follicles.
Ketoconazole
(Ketoconazole is removed and substituted with coconut oil and tee tree oil in the new formula – These two essential oils are basically the natural versions of providing the same benefit of anti-fungal properties)
Also known as Keto, this is an effective ingredient for preventing fungus growth on the scalp. Some hair loss is caused by fungal infections (such as ringworm, folliculitis, etc) on the scalp. Using Ketoconazole topically (usually 2% of Keto is contained in a shampoo), you can eliminate this issue. Most dandruff shampoos you see also include Ketoconazole as the active ingredient since it effectively removes dandruff.
Other hair growth ingredients
Nettle extract, cedarwood oil, sage oil, black castor oil, and argan oil (Scroll down for the complete ingredients list).
The Lipogaine Big 3 hair loss shampoo is also free of harsh chemicals (which is something you expect to see from hair loss shampoos nowadays).
Summing it up:
Ingredients speak for themselves!
If you are looking for a hair loss shampoo with research-based natural ingredients, Lipogaine Big 3 shampoo is a great candidate. Formulated with a "Big" list of hair growth stimulant ingredients (Total 17 natural DHT blocking agents!), this is an ideal shampoo to use for your hair loss regime.
Check out more reviews about the Big 3 Shampoo on Amazon
Have you tried the Big 3 shampoo? We would love to hear your comments.
SLS Free? Yes
Deionized Purified Water, Decyl Glucoside #, Coco glucose ‡, Glyco Stearate ‡, Cocamidopropyl Betaine‡, Polyquart-10#, Alkyl Sulfonate ‡, Disodium Lauryl Sulfosuccinate‡, Melaleuca Alternifolia (Tea Tree) *, Argania Spinosa kernel (Argan oil) *, Ylang Ylang (Cananga Odorata) *, Coconut Oil, Jojoba Oil*, Biotin (Vitamin H), Black Caster Oil*, Nigella Sativa Oil (Black seed), Phyllanthus emblica (Indian Gooseberry), Caffeine, Urtica dioica extract (Nettles extract), Serenoa Serrulata extract (Saw Palmetto extract), Cedrus atlantica oil (Cedarwood oil), Rosmarinus officinalis (Rosemary oil), Camellia sinensis (Green Tea), Salvia Sclarea oil (Sage oil), Beta Sitosterol, Polygonum Multiflorum Root (He Shou Wu), Citrus Medica Limonum (Lemon oil), Hibiscus (Rosa-sinensis) Extract, Nicotinic acid (Niacin), Tocopherol (Vitamin E), Soy Isoflavone (Non-GMO), , Sorbitan Oleate Decyglucoside Crosspolymer #, Phenoxyethanol (Mild Preservative), Caprylyl, Ethylhexyl Glycerin, Citric Acid (Derived from Citrus fruits).