This recipe combines 4 popular essential and carrier oils to stimulate new hair growth on thinning spots from frontal hairline, crown, to thinning sides and edges.
Castor oil makes excellent carrier oil for stimulating hair growth thanks to its ricinoleic acid that inhibits PGD2 (Prostaglandin D2) which is often found on the scalp of people with androgenetic alopecia (also known as diffused hair thinning).
Mixing castor oil and grapeseed oil together will dilute the thick consistency of castor oil, making it easier to apply on the scalp.
Vitamin E found in grapeseed oil provides antioxidant benefit, great for preventing hair loss. Its rich linoelic acid content is not also great for moisturizing hair, but also can inhibit DHT activities according to a study.
Finally, peppermint and lavender essential oils make this formula a lot more potent and effective for encouraging hair growth. For instance, a study shows peppermint oil may even work than minoxidil in terms of hair growth and thickness of follicles.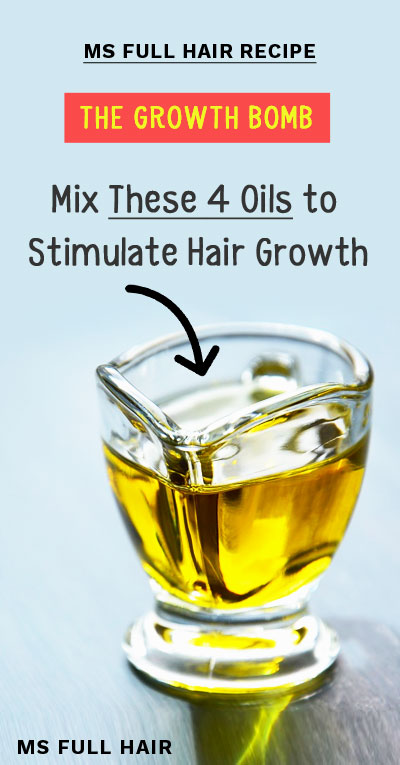 Ingredients
Directions
Mix them well in a dropper bottle
Directly apply onto the scalp
Leave it for 2 hours or overnight
Wash it well
How often?
For the maximum growth benefit, use it 5 times a week, preferably with a derma roller to increase blood circulation on the scalp
RELATED ARTICLE:
Grapeseed Oil for Hair Growth – 230% Follicle Increase