BENEFITS
The shampoo contains special microbeads made of 3 essential oils to stimulate micro-circulation and effectively clean your scalp by removing environmental build-up.
Amazon reviews: 80+
Most of the shampoos we review on Ms. Full Hair are focused treating thinning hair, creating thicker and fuller hair, and/or hopefully promoting new hair growth.
The first time I heard about the Rene Furterer shampoo was from my sister. She discovered it on a trip to France and loves how it makes her hair feel. It turns out that Rene Furterer has a specific product line designed to treat thinning hair (Read our review on Rene Furterer Complexe 5 – Weekly healthy scalp leave-in treatment).
Rene Furterer Forticea Shampoo Benefits
The Rene Furterer Paris website features a number of benefits and results you can expect by using the Forticea stimulating shampoo:
Formulated as a thinning hair treatment
Gentle cleansing using essential oil microbeads
Scalp micro-circulation
Hair cell renewal and stimulation using amino proteins
Strong, thicker, and healthier hair growth
The company also conducted a test on 99 participants (50 men and 49 women) over 3 weeks. The result indicates that 91% participants noticed easy de-tangling and 84% noted stronger hair from using the Forticea shampoo.
Active Ingredients
Here are four active ingredients included in Rene Furterer stimulating shampoo:
Extract Pfaffia: Also known as Brazilian Ginseng, this patented active ingredient is known for maintaining strong and healthy hair.
Orange essential oil: Effective for cleansing and stimulating micro-circulation
Lavender essential oil: Effective for decrease in scalp inflamation and dandruff
Rosemary essential oil: one of the popular natural remedy oils used for hair growth
Rene Furterer Forticea Review
Here are the highlights (pros and cons) about using the Forticea shampoo for thinning hair:
Green Microbeads: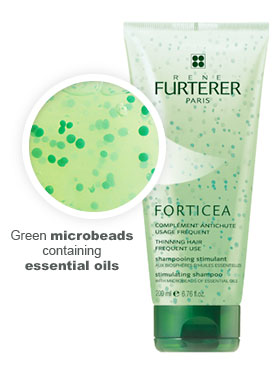 The first things you may notice are the green beads contained in the transparent bottle. Those are called micro-beads and are made of essential oils (rosemary, lavender and orange). When you apply it on your hair, you can feel the beads moving around as you wash your hair. Don't worry, they're designed to be slowly absorbed into your scalp. Consider it a stimulation add-on.
Great Smell:
Unlike other organic shampoos that often do not include a fragrance, the Forticea shampoo has a very pleasant smell which lasts a long time (in some cases at least half day or longer).
Lifting up the Roots:
This isn't a shampoo that will make your hair feel silky or soft. BUT, the Forticea stimulating shampoo should add volume to fine hair by adding more texture and lifting hair at the roots.
Dry Scalp: There are a handful of reviews stating that it made their scalp pretty dry after using it only a few times and I completely agree; however, I've also seen the same issue in other shampoos. My solution for this has been to add a couple of drops of Argan oil, which always fixes it for me. Another option is to use a hair conditioner to moisturize your hair and scalp if the shampoo dries both out. I personally haven't tried their conditioner line, so I can't say if it's good or not.
Is this the right shampoo for your thinning hair?
If you are suffering from thinning hair, try the Rene Furterer Forticea stimulating shampoo, mainly because it is great for root lifting and adding that extra body your hair needs. Its mixture of essential oils is a great benefit for nourishing your hair follicles.
The official website also clearly states that the shampoo is formulated as an ideal complement for hair loss treatments
Where to buy Rene Furtherer products?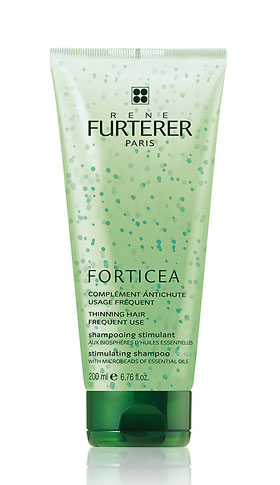 The Forticea stimulating shampoo is available at Amazon. There are also other ecommerce stores carrying Rene Furterer products as well, so go with the one you trust.
Click here to read more Forticea shampoo reviews
Have you tried Forticea shampoo? Share your experience below.
SLS Free? No
Contains microbeads made of essential oils to nourish hair follicles and encourage micro-circulation in the scalp.
Water (Aqua), Sodium Laureth Sulfate, Cocamidopropyl Betaine, Acrylates/C10-30 Alkyl Acrylate Crosspolymer, PEG-40 Hydrogenated Castor Oil, Agar, Alginic Acid, Butylparaben, Chromium Hydroxide Green (CI 77289), Chromium Hydroxide Greens (CI 77277), Citral, Citrus Aurantium Dulcis (Orange) Oil (Citrus Dulcis), Ethylparaben, Fragrance (Parfum), Glycerin, Green 3 (CI 42053), Hydrolyzed Vegetable Protein, Isobutylparaben, Lavandula Angustifolia (Lavender) Oil (Lavandula Angustifolia), Limonene, Linalool, Methylparaben, PEG-200, Phenoxyethanol, Propylparaben, Rosmarinus Officinalis (Rosemary) Leaf Oil (Rosmarinus Officinalis), Sodium Hydroxide, Tocopheryl Acetate, Xanthan Gum, Yellow 5 (CI 19140).