BENEFITS
Apple cider vinegar is known for keeping your scalp healthy by removing any build-up and bacteria growth which can cause clogged hair follicles.
ACV – Apple Cider Vinegar – is probably one of the most popular natural cures that are often discussed for treating different illnesses and symptoms including hair loss. A few of the common health benefits and uses for vinegar include weight loss, detoxification, acid reflux, arthritis, wart removal and finally, possible hair re-growth.
In this post, we will focus how ACV can help people who are experiencing thinning hair.
In general, organic apple cider vinegar contains essential minerals (potassium, calcium, magnesium, phosphorous, Vitamin C, E, and others) that promote healthy growth, repair and maintenance of the human body.
The healing properties ACV provides also appear to work for hair loss problems. There are a handful of men and women who swear that apple cider vinegar resulted in new hair growth on the thinning edges and/or their temple areas (See other natural remedies for hair loss here).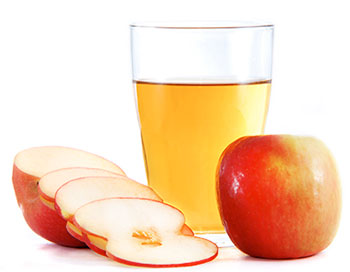 The first time I heard that vinegar could be used to combat hair loss was on the Earth Clinic website. According to the site moderator, he states that one of the reasons people lose hair is due to clogged hair follicles. He adds that apple cider vinegar is a very effective natural solution for removing any buildup on the scalp (this is one of the reasons people are also using vinegar for dandruff issues).
Especially for people whose hair gets very greasy quickly due to the excessive hair sebum (natural hair oil produced from sebaceous gland located inside the scalp), ACV provides a number of benefits.
Another point worth mentioning is that ACV can lower iodine levels in our bodies. So if you decide to orally consume vinegar as a part of natural hair growth remedy routine, it is strongly recommended to take iodine supplements or foods rich in iodine to balance it out. (Ex: Kelp, a type of seaweed, is very high in Iodine. You can easily find kelp at any Asian market).
What Do People Say about Apple Cider Vinegar and Hair Growth?
To start with, similar to any hair loss products or natural home remedies, ACV might not be the solution to cure hair loss for everyone. But it's great to know that there are actual customers who have used vinegar on their hair and saw positive results from it.
Here are some excerpts (Sources):
"It has only been 2 and a half weeks and after drinking ACV every day, 3 times a day, I now have new hairs sprouting in my balding patches" (Orally Consumed)


"I tried everything….20 years later started taking ACV for other things and it worked great. My hairdresser asked me if I was taking hair supplements. She said there was noticeable new hair growth (Orally consumed)

" I had some diluted vinegar applied to my scalp for about 6 hours and washed my hair. That same day, only less hair fell when I washed and combed my hair afterwards. Since then, I use ACV as my last rinse (Topically applied)
Another website I found is about a man who has topically used organic cider vinegar to regrow his hair. He applied it every morning for six months to his thinning areas. Looking at his before and after photos, he seems to have had positive results from it.
How to Use Apple Cider Vinegar for Hair Growth
There are 2 ways people use apple cider vinegar for hair loss: topically or drinking it
1. Topical
Vinegar Rinse for Hair: Get an empty shampoo bottle and mix ¼ cup of ACV with 16 ounces of water. Apply it onto your scalp after shampooing your hair and massage it gently for several minutes. You can use this vinegar rinse mixture once or twice a week.
A Bit of a Twist: Mark, the owner of ACV Hub, says that he added 2 tablespoons of vinegar with a bit of cayenne liquid. Then, he rubbed the mixture on the affected area and left it for an hour.
2. Oral
Normal Method: There are also other people who have positive results by consuming ACV orally. They dilute 2-3 tablespoons of ACV with water and drink it once or twice a day after meals.
A Bit of a Twist: For people who have a hard time drinking ACV (I don't blame you), sprinkle it in a salad. It is much easier to consume this way.
Simplest Method: Or you can simply go with apple cider vinegar tablets, capsules or pills. It is less time consuming and much easier to incorporate in your daily life.
Where to Buy Organic Apple Cider Vinegar – Is There Any Particular Brand I Can Trust?
While there are different brands to choose from, the most popular one you will notice is the Bragg's Apple Cider Vinegar. Bragg has been the #1 provider of ACV in the market and provides the following benefits: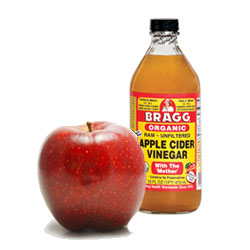 Bragg is a large and established company that has been around for years
They use the unfiltered, unheated and unpasteurized (raw) method to make their organic vinegar
Unpasteurized vinegar contains mother, the white jellylike enzyme you see at the bottom of the bottle. Apple cider vinegar mother is an evidence of a natural vinegar making process.
To make it better, you can't beat the price. The Bragg's organic vinegar is very affordable and costs under $10 (16 oz), which is about the same price as two morning lattes at Starbucks. With 3600+ customer reviews talking about the brand, you can't go wrong with it.
Read more ACV reviews on Amazon
Have your tried ACV for your hair loss? Share your experience below.