BENEFITS
A study conducted for alopecia areata participants shows that hair regrowth was observed in 87% of patients after 6 weeks of topical application of onion juice
Onions are high in vitamin C and contain quercitin, which reduce oxidative damages to human cells and lowers cholesterol levels to improve our immune system.
Study: How effective is onion juice for hair growth?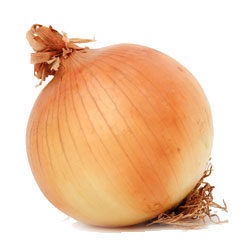 A research study published by the Journal of Dermatology shows that onion juice can be an effective remedy for treating alopecia.
For this specific study, all participants had alopecia areata (also known as patchy hair loss caused by auto-immune disease) and the goal was to find out the effectiveness of onion juice as a topical hair loss treatment.
How was the study designed?
The participants were then divided into 2 groups
Group 1: Treated with onion juice topically
Group 2: Treated with tap water topically (Control / Placebo group)
The first group of participants were advised to apply crude onion juice to their scalp twice a day, while the other group (tap water treated) was served as the placebo group.
The study results:
2 weeks: The study shows after 2 weeks of applying crude onion juice twice everyday, the research team started noticing new hair growth in some patients.
4 weeks: 74% of participants (17 people) experiencing re-growth
6 weeks: The researchers observed 87% of participants (20 people) with hair regrowth. They also found that men show the better response than women (Hair re-growth observed in 93.7% male and 71.4% female).
Conclusion:
The positive result from the study indicates that using onion juice as a topical hair loss natural treatment can be an effective solution for people suffering from alopecia areata.
Note: While the study was designed for treating alopecia areata participants naturally, many people also use onion juice for androgenetic alopecia (the most common hair loss for male and female – also known as pattern hair loss).
How to make onion juice for hair loss?
There are two ways to approach this:
#1: Make your own onion juice at home
This video is helpful learning how to make onion juice for hair loss topical application.
In the video, she is using a squeezer like this one to squeeze the juice out.
#2: Buy onion liquid extract
If you don't want to start from the scratch, use this onion liquid extract instead. It's a convenient way of getting 100% pure onion extract (No alcohol included) for the topical use of your hair.
DIY Recipe: How to make onion juice mask
How to Make Onion Juice for Hair Growth – DIY Recipe

Here is a basic (and the most straight) way to make onion juice hair mask for stimulating hair growth and preventing hair loss.

Ingredients

Preparation

Cut the onions into small pieces
Use a juicer or a blender until it becomes liquidy (If you don't have a juicer, use a grater with the fine side)
(Optional) Use a cheese cloth to squeeze out the liquid into a bowl

How to Apply

There are several ways to apply onion juice onto the scalp: Fingers, a cotton ball, a basting brush, and a glass eye dropper bottle (the most sanitary way).

Part your hair and gently press it into your scalp
(Optional) Cover your hair with a haircap
Leave it for 30 minutes to up to 1 hour
Wash your hair with a shampoo and conditioner

Note

A study applied onion juice twice a day for two months.
If you don't want to go through all the trouble of chopping and blending to make your onion juice, check out this onion juice extract (100% pure non-alcohol version).
Have you tried onion juice for your hair loss? Share your experience.