BENEFITS
Toppik is the fastest way to conceal thinning spot and adds instant fullness using natural keratin fibers.
Amazon reviews: 2200+
Toppik is one of the first brands that came up with a solution to hide both men's and women's thinning hair spots using hair-building fibers. Toppik is not a permanent solution for treating hair loss, but if your goal is to find products to thicken hair "temporarily", this review is for you.
Hair Toppik reviews for people suffering from hair loss
In general, there are 4 different ways to cover thinning hair.
Long Term:
Pharmaceutical solutions (Minoxidil, Propecia) work for many people, but they take a long time to show results. Also, some hair loss medications come with side effects.
Hair loss thickening shampoos and supplements work for some people, but not for everyone
Quick Fix:
Wearing a wig – If hair loss is severe, a wig might be the best option
Using hair fibers to give the appearance of fuller hair – Using hair building fibers for thinning hair is a great way to get a visible results (This Toppik review belong to this category)
How does Toppik hair fattener work?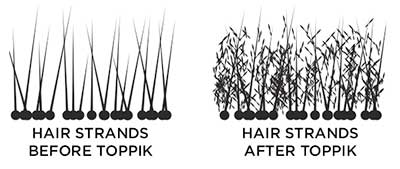 Toppik hair building fibers are made of natural keratin (protein structures found in our hair strands).
When you sprinkle the fine fibers on your thinning or balding area, the keratin hair fibers binds to your existing hair strands (regardless how thin the strand is) and creates a natural volume for thicker and fuller looking hair instantly.
Main Ingredients
Keratin, Ammonium Chloride, Silica, DMDM Hydantoin.
Sizes and Colors
9 Toppik Colors: The Toppik hair fibers come in 9 different colors covering the majority of hair color pigments of different races and ages
Medium brown
Dark brown
Black
Light brown
Medium blonde
Light blonde
Auburn
Gray
White
4 Different Sizes: Toppik offers 4 sizes to choose from
Giant 55g/1.94oz
Economy 27.5g/0.97oz
Regular 12g/0.42 oz
Travel Mini 3g/0.11oz
Highlights: Pros and cons of Toppik review
PROS:
It completely covers up bald spots – Trying to conceal a thinning spot is often time consuming and makes us more self conscious (as women). The Toppik hair fiber powder provides a quick and easy way to hide it.
It gives natural looking hair – When you apply the hair building fibers on the scalp, the fibers naturally blend in with your existing strands.
Stays on your hair for a long time – Toppik hair fattener can stay intact for as long as two full days.
You can even sleep with it – Even though it's not recommended, you can sleep with it in your hair without the hair Toppik fibers coming out on the pillow.
CONS:
It will take a little time to nail down the right fiber amount on your hair and distribute them evenly. But once you get used to it, it will get a lot easier. The company offers an accessory called a hairline optimizer to keep the powder from falling on other parts of your skin. Using the hairline optimizer (basically a small and irregular comb that fits on your scalp), it is designed to create a natural looking hairline.
Does not work for people with severe hair loss – Toppik hair fibers are good for people who are having moderate hair loss. If you don't have enough hair for the fibers to adhere to, the fibers will look very unnatural.
Toppik Side Effects – there have been no major side effects reported on Toppik, but there are some reviews stating that if you apply it incorrectly, it simply won't look right.
Toppik before and after pictures
Here are before and after photos of women with thinning hair from the official Toppik site. As you can see, the before photos show visible thinning areas on the scalp.
Where to buy Toppik hair building fibers to cover bald spot?
You can buy it from Amazon (of course), the official Toppik website, and other ecommerce sites.
Click Here to Read more Toppik reviews on Amazon
Does Toppik work for your thinning hair? Please share your experiences below.